OUR HISTORY
Kaney's leading edge products used in today's most advanced aerospace, defense and medical applications are part of a lineage that spans three organizations (Kaney Aerospace, Ardekin Precision, and BVR Technologies) and more than 75 years of specialized product development and manufacturing.
Beaver Gear Works, Predecessor to BVR Technologies
Charles Kessler founded Rockford IL based Beaver Gear Works in 1944 to manufacture fine-pitch gears for the bathroom scales that Brearley produced. Kessler was the first president of Beaver Gear Works.
In the 1950s, Beaver Gear Works supplied components to Rockwell International's Collins Radio Division for flight instruments and later built the instruments. By the early '60s, Beaver Gear Works had become one of the largest fine-pitch gear producers in the country with a reputation for producing high-quality, dependable products. Beaver specialized in the production of gears for altimeters, airspeed equipment and navigation instruments; Beaver gears were also found in televisions, movie projectors, radio transmitters, record players, cameras, clocks, timing devices, radar equipment, gauges, machine tools, scales, pumps, and drills.
In the late '60s, Beaver Gear Works launched a technical research and development program, which resulted in the addition of new product lines including complete aircraft flight instruments, servo amplifiers, electronic assemblies, and a series of precision feedback position sensors for use on numerically controlled machine tools. The company also supplied fine-pitch precision gears for NASA's Mercury, Gemini, and Apollo US space programs.
In 1971, Beaver Gear Works changed its name to BVR Inc.
In response to the depressed market of the early 1980s, BVR redirected its marketing efforts away from general aviation products and towards government and military programs. BVR then established an international network of representatives to identify opportunities to export product for foreign commercial users and foreign government agencies.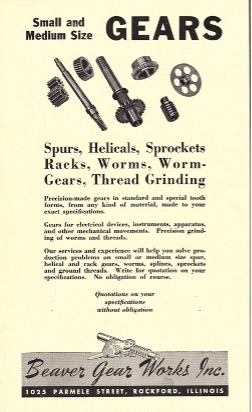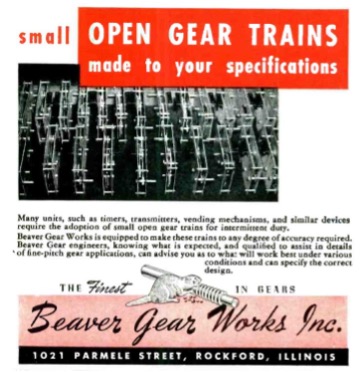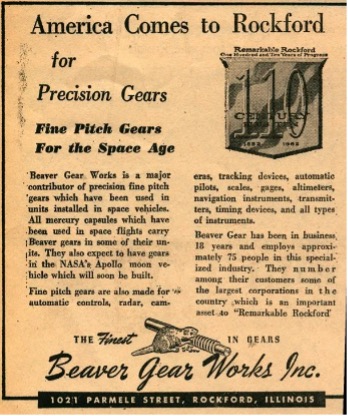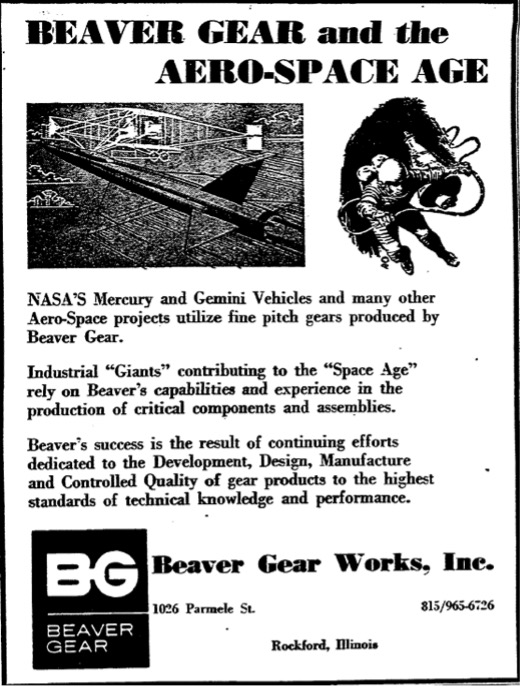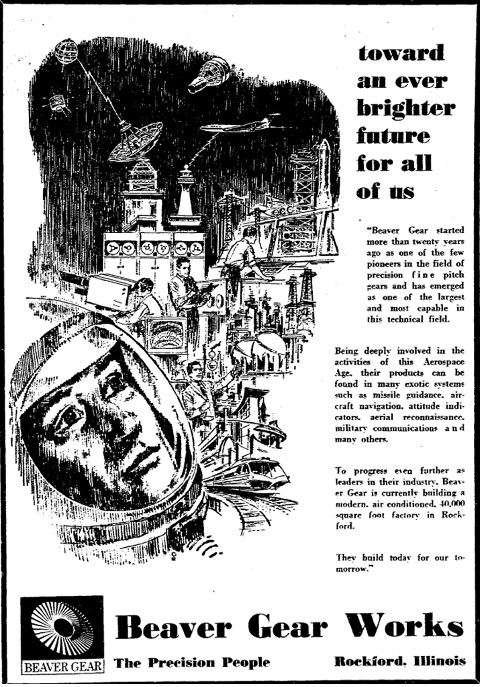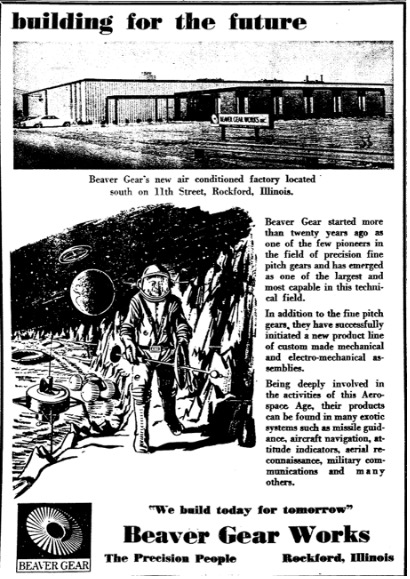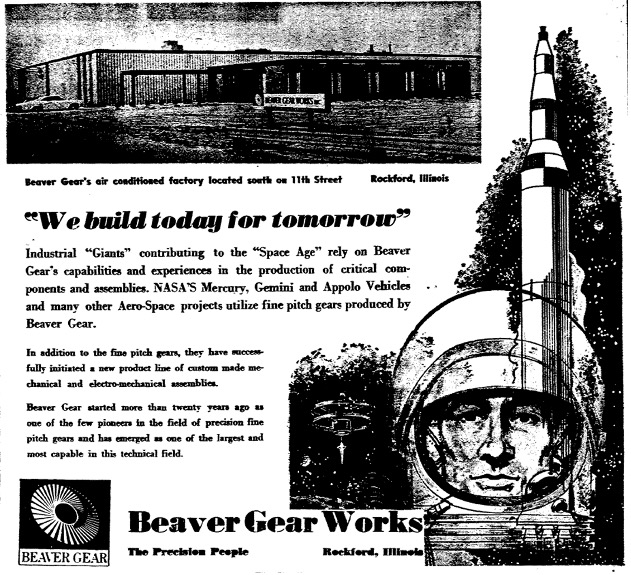 Ardekin Machine Company, Predecessor to Ardekin Precision
While BVR was transitioning to new markets, aerospace machinist Bob Kinney founded Rockford IL based Ardekin Machine Company in 1987. Though the facility was modest, Ardekin Machine Company produced critical components that supported important aerospace applications.
Ardekin produced various precision fixtures and tooling to support the refurbishment of Space Shuttle subsystems for Hamilton Sundstrand, a United Technologies Company. The subsystems included the Rudder Speed Brake actuators, Body Flap actuators, Power Drive Unit, and auxiliary power units for the orbiter and solid rocket boosters.
In 2004, Ardekin received an award from Hamilton Sundstrand for the exceptional support of the Return-To-Flight activities after the 2003 Columbia tragedy. Ardekin also produced aluminum and stainless steel heat shields used on Space Shuttle Discovery mission (STS-114), which was the first flight after the Columbia disaster.
Modernization of BVR Technologies
In 1990, BVR was purchased by two former Barber-Colman executives: Roger Reithmeier and Gary Frederick, who changed the company's name to BVR Aero Precision Corporation. Gary Frederick became the new president.
In 1993, a new market opened for BVR Aero Precision Corporation as new medical sterilization procedures increased demand for newly designed dental and surgical tools capable of withstanding steam sterilization. BVR leveraged its world-class knowledge and experience in precision aerospace gears and gear boxes into these surgical and dental devices.
In 2003, Esterline Technologies acquired BVR Aero Precision Corporation and changed the name to BVR Technologies.
A Future Powerhouse is Founded
In March 2006, former USAF and Commercial pilot Jeffrey Kaney founded Kaney Aerospace. The business plan started with engineering services, then moved to build-to-print products, and then designing and manufacturing Kaney-owned proprietary products.
Kaney Aerospace sought acquisition opportunities to grow and realize its vision as an industry leader in systems testing, engineering services, manufacturing, and innovation. In 2008, Kaney Aerospace acquired Ardekin Machine Company. Ardekin Machine Company was renamed Ardekin Precision to reflect its mission and integration with Kaney.
With vertical integration of Ardekin's manufacturing and Kaney's engineering, the company grew to include proprietary, large-scale test equipment for fuel, electric power, and environmental control systems. To accommodate this rapid growth, Kaney Aerospace moved from its substantial, on-airport hangar to a larger facility at 1321 Capital Drive in Rockford, IL in 2015.
Kaney Aerospace acquired BVR Technologies from Esterline in 2017. BVR legacy products and infrastructure perfectly complemented Kaney's engineering and systems integration capabilities. The search for a facility to physically integrate the two entities began immediately.
In 2018, Kaney Aerospace purchased its current location at 1300 Capital Drive in Rockford, IL, a 6-acre property that offers ample room for future expansion. With a complete renovation of the 55,000 square foot facility, significant investment in new equipment and a meticulously planned move, the transition to 1300 Capital Drive was completed in early 2019 without any disruption to production operations.
In 2019, Kaney, Inc. was formed to consolidate all three entities.
Kaney Inc. has had a presence in Dayton, Ohio since 2014. In 2020, the Kaney Technical Field Office opened at Dayton's Russ Research Center. With a focus on the future of flight, through millions in internal investments in operations and engineering, and US Government Small Business Innovative Research contract awards, the Dayton/Rockford team has made significant strides in developing state-of-the-art aerospace equipment that directly aids our nation's defenses.
Kaney's story is one of multiple accomplished organizations over 8 decades resulting in one team working towards a common mission of "Solutions Delivered. Unparalleled Velocity."